Skrill is a digital payment company which allows its 36 million users to make
or receive online payments. Now Freelancers and any Skrill users from Nepal.
To Create skrill account go here
You can easily withdraw money from Skrill in your eSewa wallet. Money in your
eSewa wallet can be used to make merchant payment to more than 1100
merchants or withdrawn to 40 member banks.
Using eSewa to withdraw Skrill money, you can save 50% of transfer charge
and it is way faster, reliable and convenient than traditional methods. Skrill
standard service charges are applicable whereas, eSewa does not charge any
transfer fees.

To visit Skrill for more details click HERE

Steps to get money in your eSewa wallet from Skrill
Step 1: Login into your skrill account and click on mobile wallets.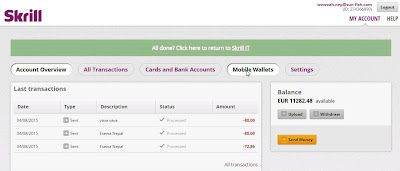 Step 2::Click on Add Mobile wallet
Input the Esewa id and number
Step3: Go to withdraw
and select Esewa as Mobile wallet . Enter the amount to withdraw.

Step 4: Enter your birth date to continue.
Look the transaction fee.

And you are done. But you are lucky that first transaction is free of cost. To sign up skrill go here.

Don't forget to comment below for any mistakes/misguidance, also for help.
Full Source: http://bit.ly/2nt1frt